After almost a year of ZOOM meetings and occasional hybrid meetings, all members gathered in person today at Aoyama Life Learning Center.
With COVID-19 cases rising in Japan, the club was especially cautious in putting preventative measures in place, with club members' safety as a top priority. The decision to conduct a face-to-face meeting was to preserve the tradition of Toastmasters and to allow participants to practice public speaking in front of a real audience.
Today we were honored to be joined by TM Shinji Watanabe, a very experienced Toastmaster and member of District76.
Mr. Watanabe evaluated club member TM Stefano Spillo's speech which was titled "Building Blocks". The speech aimed to be persuasive whilst focusing on body language to communicate effectively with the audience. The feedback from veteran TM Watanabe highlighted some key points, especially pertaining to the dramatization of characters in storytelling which was an extremely valuable lesson not only for the speaker but also for the rest of the club members.
The Table Topics session was conducted by TM Takuya Akaza who as usual, did not disappoint and provided some excellent prompts. "How would you spend 1 billion yen?" An interesting answer to this question was, going to Macau and gambling the whole sum!
Our word of the day was "sustainable" which I have no doubt will be a buzzword again in the new year as people write down their new year's resolutions.
If you are looking to make public speaking a sustainable habit, why not join us as a guest for one of our regular meetings! We look forward to giving you a warm welcome.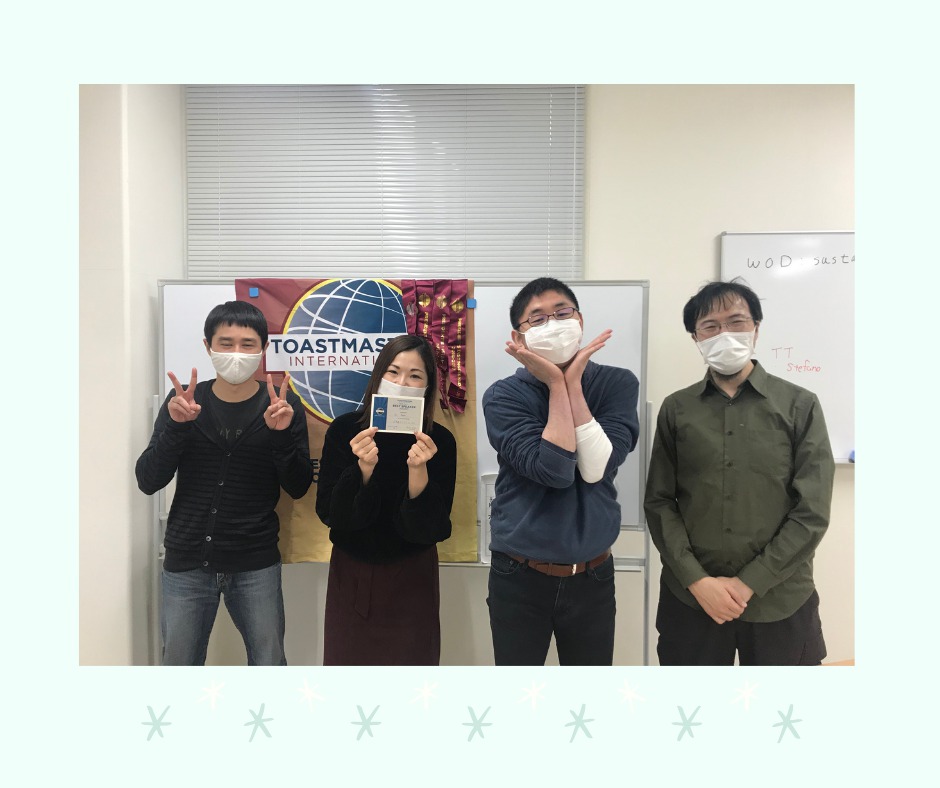 【292nd Regular Meeting Report】